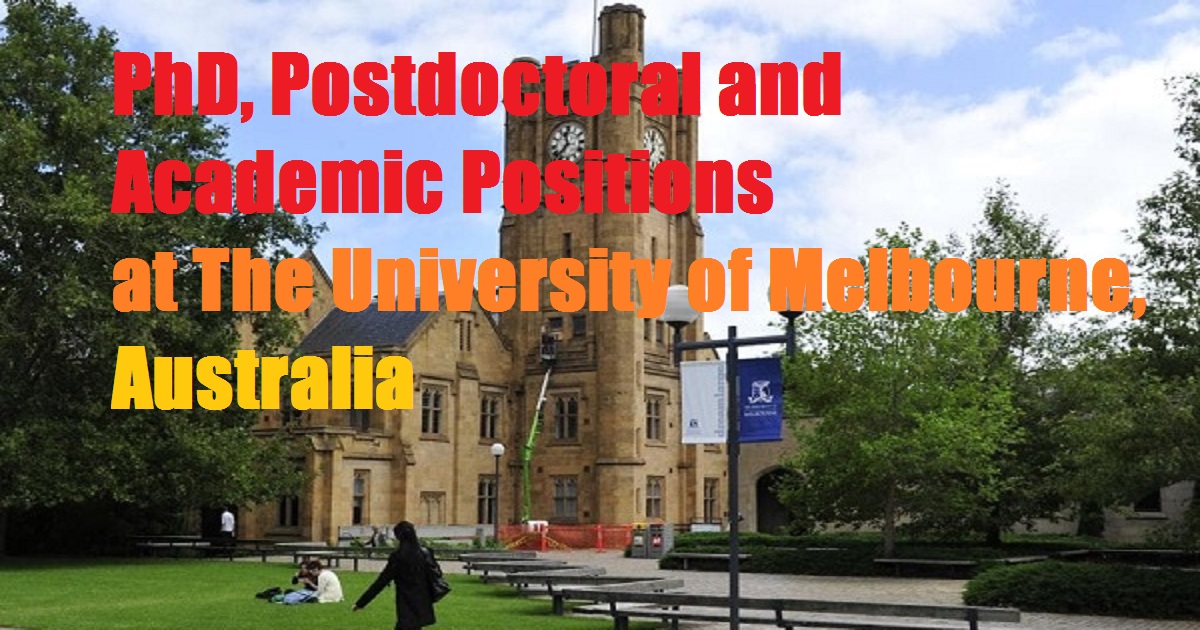 The University of Melbourne is a public research university located in Parkville, Melbourne, Australia. Founded in 1853, it is Australia's second oldest university and the oldest in Victoria.
ELIZABETH AND VERNON PUZEY POSTDOCTORAL FELLOWSHIP
• Three (3) year fixed term appointment • Outstanding opportunity for early-stage academic • Addressing Australia's greatest challenges in health and wellbeing through research in the food, pharmaceutical and / or environmental engineering fields
CERSH CENTRE MANAGER
Exciting opportunity to join the Department of Rural Health; position can be based in either Shepparton or Wangaratta.
SEXUAL HEALTH AND WELLBEING OFFICER
Exciting opportunity to join the Department of Rural Health in Wangaratta.
RESEARCH FELLOW IN DATA SCIENCE
The School of Mathematics and Statistics seeks a qualified and enthusiastic Research Fellow to join a dynamic research program in the broad context of Data Science. Full-time fixed term position for 3 years.
RESEARCH ASSISTANT IN YOUNG MEN'S MENTAL HEALTH
Research Assistant to support young men's mental health through an innovative, module-based online training program.
PROGRAM MANAGER, SCHOLARLY DEVELOPMENT (RESEARCH)
Uplift research-related scholarly capabilities at the University of Melbourne.
SENIOR DESIGN LEAD
Lead and inspire the practice of Human-centred Design mindset and methods on projects and initiatives. Reporting to the Design Manager, you'll provide key support to them to shape work, lead projects and establish the Design Centre of Excellence at The University of Melbourne.
HEAD OF SCHOOL
The Faculty of Science is seeking an outstanding academic to lead a newly formed school resulting from the merger of the School of Earth Sciences and the School of Geography. The School will be one of the largest in Australia covering disciplines of geology, meteorology and physical and human geography.
STEAM COMMUNICATOR
Exciting opportunity to deliver leading-edge, STEAM-based, discovery and innovation programs.
LEARNING DESIGNER (2 POSITIONS AVAILABLE)
Do you have a demonstrated ability in designing learning assets, special experience in online delivery mode assets, and expertise in working with relevant educational systems? Two fixed term (2 years) positions available: one full-time and one part-time (0.5FTE).
RESEARCH SUPPORT OFFICER
The Melbourne Medical School is seeking a Research Support Officer to support the delivery of research development initiatives for the School on a casual, part-time basis.
RESEARCH FELLOW IN DIAMOND ELECTRODES FOR BIMODAL CELLULAR CONTROL
The School of Physics invite suitably qualified postdocs to apply to the Research Fellow in Diamond Electrodes for Bimodal Cellular Control
MSOG CURRICULUM DEVELOPER
Seeking a Curriculum Developer to manage and oversee the development of different curriculum activities at the Melbourne School of Government
SENIOR PROPERTY OFFICER
Opportunity to support, manage and align a work program of property related activities related to strategies and projects.
RESEARCH SOFTWARE ENGINEER – BIOSECURITY
An outward facing role for an experienced research software engineer translating data-driven solutions to real world biosecurity problems into user tools.
INFORMATION REGULATION OFFICER
Provide consultancy and advice to contribute to business efficiency and organisational compliance
RESEARCH FELLOW – COMPUTATIONAL TURBULENT FLUID FLOW
Your chance to build tomorrow! 12-month fixed term appointment, with possibility of extending; broad role for early-stage academic.
CAREERS CONSULTANT
Exciting career development opportunity for a motivated career consultant at Australia's leading Law School.
RESEARCH FELLOW IN CMB POLARISATION
The School of Physics invites suitably qualified postdocs to apply for the Research Fellow in CMB Polarisation position
RESEARCH ADMINISTRATOR
The Research Administrator: provide high-quality administrative support and make a contribution to the effective and professional operation of MLS research strategies, programs and activities, including Research Centres, Institutes and Networks
ASSOCIATE PROFESSOR OF ALLIED HEALTH
Joint Associate Professor of Allied Health position with the School of Health Sciences at the University of Melbourne and the Mercy Hospital for Women
POSTDOCTORAL RESEARCH FELLOW
An exciting opportunity for a Postdoctoral scientist to drive innovative human papillomavirus (HPV) research in the Department of Obstetrics and Gynaecology at The University of Melbourne
RESEARCH ASSISTANT IN OBSTETRICS AND GYNAECOLOGY
An exciting opportunity for an early career Research Assistant to be involved in a leading women's health program improving the diagnosis and treatment of endometriosis.
BUSINESS MANAGER
University of Melbourne – Mobile Learning Unit – Online Education Provider seeks experienced Business Manager
RESEARCH FELLOW IN OPTIMAL NONLINEAR CONTROL
Research fellow on optimal nonlinear control: 2-year Fixed Term; broad role for early-stage academic; your chance to build tomorrow!
POSTDOCTORAL CLINICAL RESEARCH FELLOW
Postdoctoral Clinical Research Fellow in the Department of Optometry and Vision Sciences at the University of Melbourne
FLOW CYTOMETRY OPERATOR
Seeking an experienced Flow Cytometry Operator to provide cross-faculty research support for medical, biological and material sciences researchers.
POSTDOCTORAL RESEARCH FELLOW IN META-OPTICAL DEVICES (2 POSITIONS)
The School of Physics invites applications to the Postdoctoral Research Fellow in Meta-Optical Devices role (two positions available) within the ARC Centre of Excellence in Transformative Meta-Optical Systems (TMOS).
ASSOCIATE PROFESSOR OF NURSING
Associate Professor of Nursing position available as a joint position at Austin Health and the Department of Nursing at the University of Melbourne.
RESEARCH FELLOW – SUPERCONDUCTING NANODEVICES
The School of Physics is seeking to appoint a suitably qualified postdoc in the area of quantum physical biosciences