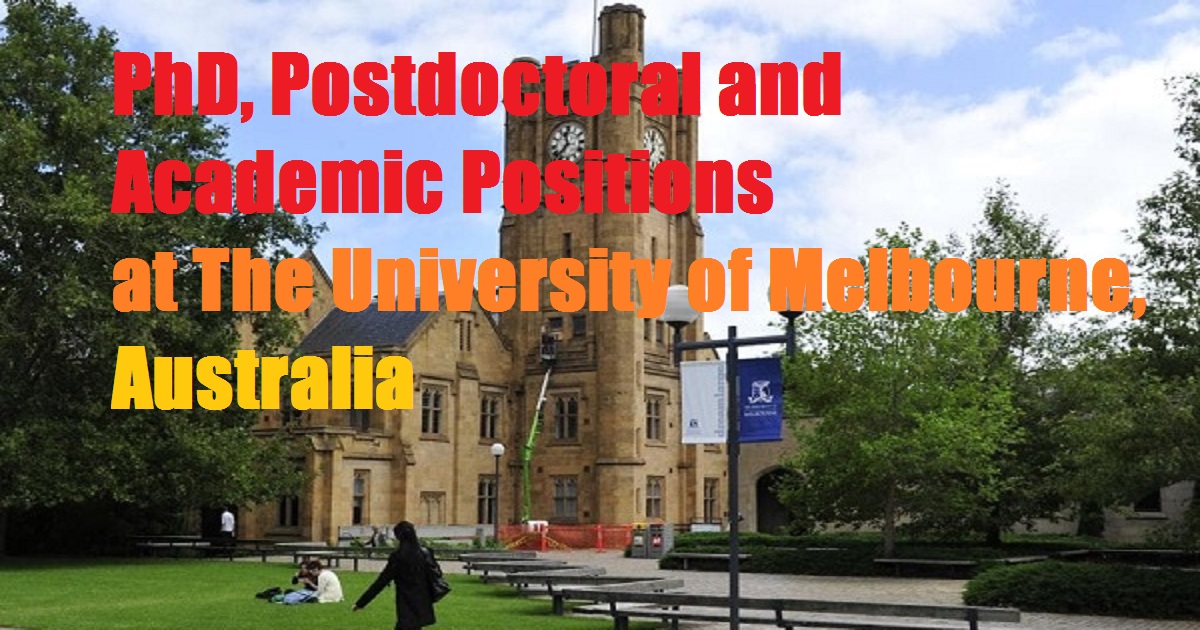 The University of Melbourne is a public research university located in Parkville, Melbourne, Australia. Founded in 1853, it is Australia's second oldest university and the oldest in Victoria.
DESIGN LEAD
Lead and inspire the practice of Human-centred Design mindset and methods for designing and improving the experiences of and services to students, staff and academics
FINANCE SYSTEMS EXPERT
Provide functional support initiatives for Oracle E-Business Suite Finance for improvement and automation.
EXECUTIVE ASSISTANT, DVC INTERNATIONAL
Seeking a proactive individual to deliver outstanding administrative, secretarial and executive support to the Deputy Vice-Chancellor International.
EVENTS COORDINATOR
An exciting opportunity is available for a Fixed Term Events Coordinator to join the Melbourne Entrepreneurial Centre at the University of Melbourne.
RESEARCH PERFORMANCE COORDINATOR
Seeking someone who enjoys working with data, problem-solving, open communications with the research management community, and responding to the needs of researchers in a complex environment.
WORKFORCE DEVELOPMENT LEAD – CHI
Exciting opportunity for a self-driven and organised individual with experience in designing and delivering workforce development programs
STUDENT EXPERIENCE COORDINATOR
The Student Experiential and Experiential Learning Professional Services Unit within the Faculty of Business and Economics has a continuing opportunity for a Student Experience Coordinator.
VETERINARY NURSE (MULTIPLE POSITIONS AVAILABLE)
Exciting opportunities are currently available for experienced and passionate Veterinary Nurses to join the team at U-Vet Werribee Animal Hospital.
DIGITAL HEALTH PROGRAM MANAGER
Digital Health Program Manager
DIRECTOR, EARLY CHILDHOOD EDUCATION SERVICES CENTRE (2 POSITIONS)
Exciting opportunity to be responsible for the day-to-day management and operation of one of the University's Early Childhood Education Services; 2 positions available
ACADEMIC SPECIALIST BIOINFORMATICIAN
Melbourne Bioinformatics is seeking a talented Academic Specialist – Bioinformatics, who is responsible for delivering technical, bioinformatics expertise to major national projects within a leading-edge life science and biomedicine research environment.
POLICY & GOVERNMENT RELATIONS OFFICER
Opportunity to provide timely analysis, research and advice on emerging higher education sector issues
ACADEMIC PROGRAMS SUPPORT
Academic Administration Support role at the Melbourne Dental School
RESEARCH FELLOW
Great opportunity to work in a dynamic University of Melbourne mental health research centre focusing on improving mental health and wellbeing outcomes for emergency services personnel
RESEARCH ASSISTANT, HIV PHYLOGENETIC ANALYSIS
Research assistant to conduct qualitative research and ethical, legal and social analysis to inform the use of HIV phylogenetic testing in Australia.
TECHNICAL ASSISTANT
Technical assistant with expertise in molecular biology sought for new role in Australian Epilepsy Project
RESILIENCE TRIAL NURSE
RESILIENCE Trial Nurse – responsible for delivering and coordinating the study intervention in the 'The REsilience to Seasonal ILlness and Increased Emergency admissioNs CarE (RESILIENCE) Trial.'
EXECUTIVE ASSISTANT
An exciting opportunity to provide a high level of outstanding executive support services to the Head of School and assigned Delegates and/or Executives in the Melbourne School of Psychological Sciences.
ANATOMICAL SERVICES LABORATORY OFFICER
Unique opportunity to join a dynamic team supporting anatomical teaching at the University of Melbourne
LEARNING DESIGNER (ePORTFOLIO)
* Exciting opportunity for a Learning Designer with strong eportfolio experience. * Working within a dynamic learning design team * Working on an innovative new project at the University of Melbourne * Work from home opportunities.
COMMERCIAL AND EVENTS COORDINATOR
Enhance visitor experience and grow revenue by implementing a Museums and Collections Department wide venue hire program.
LIBRARY SERVICES OFFICER (ARTS)
Deliver high quality, continuously improved frontline library services that support learning, teaching and research activities at the University of Melbourne.
COLLABORATION APPLICATIONS LEAD
An outstanding opportunity to lead the setup, administration, configuration, ongoing roadmap development and associated user experience with Software as a Service (SaaS) applications.
VETERINARY SENIOR LECTURER/ASSOCIATE PROFESSOR (CRITICAL CARE)
An exciting opportunity is available for experienced and passionate veterinarians to join our small animal Critical Care team at the U-Vet Werribee Animal Hospital.
EVALUATION PROJECT MANAGER
Seeking a talented and dedicated Project Manager (Research Fellow) to support innovative evaluations, based at the Centre for Program Evaluation in the Melbourne Graduate School of Education (MGSE).
MANAGEMENT ACCOUNTANT – FEIT/ABP
Rewarding opportunity to contribute to the successful operation of the embedded Finance Business Partnering model within the University.
RESEARCH SUPPORT OFFICER RURAL HEALTH
Opportunity for a Research Support Officer to work on current projects in dementia and delirium in older people and assist with coordination, recruitment and, data collection.
RESEARCH ADMINISTRATOR
The Research Administrator is responsible for making a contribution to the effective and professional operation of MLS research strategies, programs and activities, including Research Centres, Institutes and Networks, through the provision of high-quality administrative support.
LECTURER MEDICAL EDUCATION IN FIRST NATIONS HEALTH (INDIGENOUS APPLICANTS ONLY)
Scholar in First Nations health to facilitate the implementation and ongoing development of the First Nations health curriculum within the MD