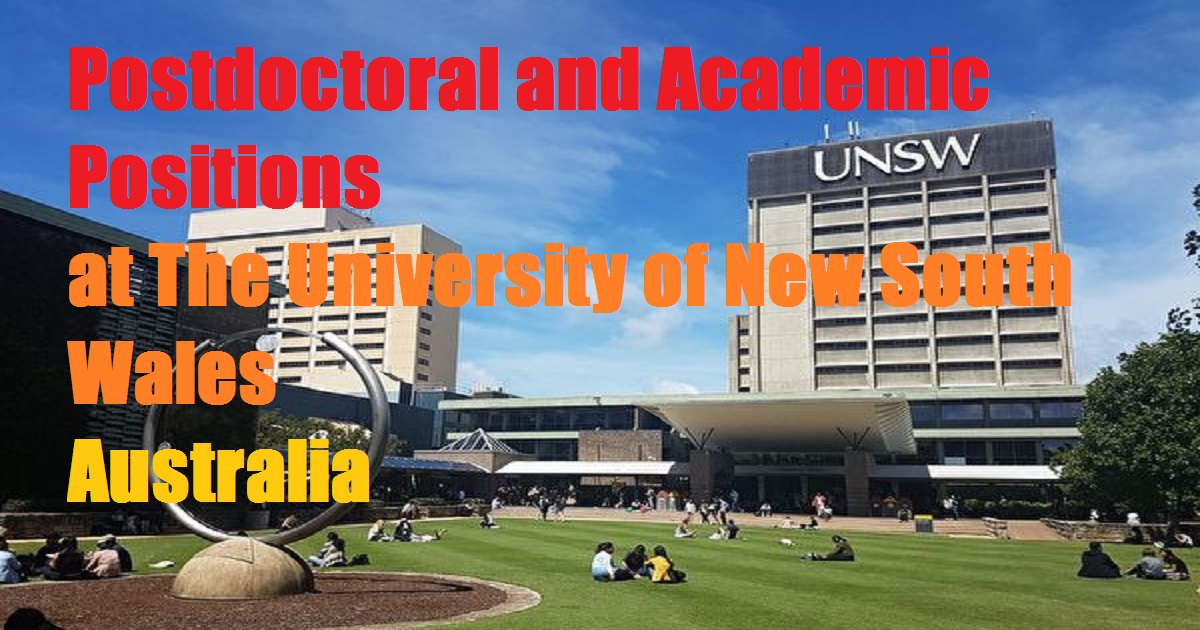 The University of New South Wales is an Australian public research university located in the Sydney suburb of Kensington. Out of all Australian universities, UNSW has the highest median ATAR and attracts the highest number of top 500 students.
Lecturer/Senior Lecturer in Anatomy (Education Focussed)
3-Year Fixed Term, Part time (0.5FTE) opportunity for an education focussed academic to deliver high-quality teaching and pursuing initiatives to enhance the educational experience of our students within the Department of Anatomy.
Administrative Assistant
Are you an Administration Superstar looking for a varied and enriching environment? An Administration role with The School of Engineering and Information Technology at the Australian Defence Force Academy may be for you.
Education Director – Centre for Social Impact
Reporting to the Academic Director, the Education Director will provide leadership to CSI's education program which consists of undergraduate, postgraduate and executive education.
Research Associate
The Research Associate will undertake scientific research under the auspices of the ARC-funded Discovery Project entitled: "The ocean's biological pump: innovative models and diagnostics to reveal the effects of environmental change".
Student Services Officer
The Student Services Officer is responsible for a variety of different administrative functions, with a key focus to deliver high quality service across a wide range of student enquiries, putting the student experience as the primary focus of all activities. The role also contributes to the drive for continuous improvement in quality and process.
Academic Support Officer
UNSW Canberra are seeking a skilled administrator to support the School of Humanities and Social Sciences.
College Technology Manager/Senior Business Partner
UNSW Canberra are seeking a technology leader to oversee the end-to-end delivery of Information, Communication and Technology Services.
Contracts Officer
Manage the review, provide advice and negotiate competitive and contract research agreements as well as collaborate with Legal and Knowledge Exchange teams to resolve complex contract matters.
PPMO Assurance Specialist
The PPMO Assurance Specialist is an expert in governance, frameworks and methodologies and the end-to-end project lifecycle.
Business Development Manager – Science
Working within the Faculty of Science, the Business Development Manager will develop, maintain and leverage external and strategic relationships with relevant industry sectors and government. They will use strong internal relationships across the University to generate engagement and knowledge exchange pathways, negotiate arrangements for Science and achieve key revenue targets.
Specialist – Peoplesoft
The Specialist PeopleSoft provides specialist services in relation to the implementing, managing, operating, supporting and monitoring of the IT Managed Systems environment for all of UNSW
Library Learning Services Specialist
Library Learning Services Specialists deliver innovative, sustainable, scaleable and highquality services to meet the rapidly-changing expectations of students, staff and stakeholders via face to face and digital channels and contribute to the development and provision of an adaptive, collaborative, student-centred and high-performing professional culture within the Learning Services team.
Finance Business Partner
The role of the Finance Business Partner provides senior level financial advice and support to enhance business performance, aid decision making and support the achievement of operational and strategic objectives.
Research Fellow – Epidemiologist/Statistician
Opportunity for an Epidemiologist/Statistician to carry out independent and/or team-based epidemiological and statistical research using large health datasets. This role will also provide support across projects within the National Perinatal Epidemiology and Statistics Unit (NPESU) in the Centre for Big Data Research in Health.
Digital Library Support Specialist
As the Digital Library Support Specialist you will work collaboratively and creatively with Library colleagues and other areas of the University to contribute to the specification, design, development, implementation and maintenance of digital library services and systems that meet usability standards and, when required, interoperate or integrate with other systems.
Store Person
The Precinct Services is made up of Upper and Lower Campus Stores and Workshops. The team provides a range of research and teaching support services to all Faculties and Divisions, on and off campus through centrally managed procurement services, logistics management (internal and external) and equipment repairs, maintenance, and design.
Research Associate
The Research Associate will undertake collaborative and self-directed research on an ARC-funded Discovery Project titled "The mathematics of stochastic transport and signalling in cells". The aim of the project is to develop new stochastic mathematical models of the dynamics of protein transport and cell signalling.
Administrator
The Administrator works with the School and Directors of these Centres to ensure effective administration and communication with centre members, and assist with planning, administration and reporting for the Centers.
Postdoctoral Fellow
UNSW Canberra are seeking a Postdoctoral Fellow with experience in computational materials science.
Lecturer in Accounting
The School of Business at UNSW Canberra are seeking a Lecturer in Accounting to support research and teaching activities.