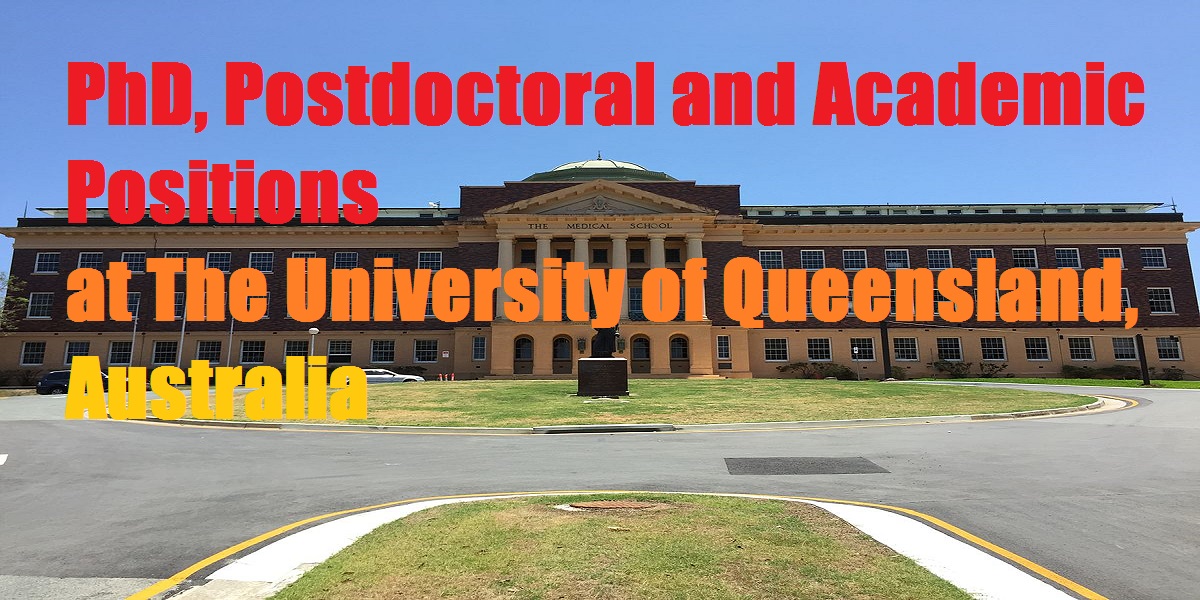 The University of Queensland is a public research university located primarily in Brisbane, the capital city of the Australian state of Queensland. Founded in 1909 by the state parliament, UQ is Australia's fifth oldest university, and colloquially known as a sandstone university.
Postdoctoral Research Fellow
Focus on the design and synthesis of antiviral materials and the investigation of their virus-killing properties on different surfaces.
Lecturer in Veterinary Reproduction
The successful applicant will undertake teaching and research in the field of veterinary reproduction including anatomy, physiology/biology and behaviour, as well as applied clinical and animal production aspects related to reproduction in common domestic animals.
Research Fellow
Contribute to a Transformative Innovation Policy research agenda which unpacks the role of science and technology policy and Universities in both industrial and social change
PhD scholarship: Artificial intelligence approaches for diagnosing and phenotyping sleep disorders
Focus on developing artificial intelligence (particularly deep learning-based) approaches for diagnostics and phenotyping of sleep disorders, especially sleep apnea
PhD scholarship: Optimization of engineered scaffolds for improved scaffold integration, tissue growth, repair and functional regeneration
Three independent but inter-related PhD projects are available to support a program of research funded under an Australian Research Council Industrial Transformation and Training Centre focussed on Joint Biomechanics (ARC ITTC – JB), a collaboration between UQ, QUT and UNSW, along with multiple industry partners and practicing clinicians.
Various Research-Focused Appointments (UQ Wide)
UQ is recruiting a number of research-focused appointments supported by the Federal Government's Research Support Package to further Australia's research workforce, initiatives, and activities.
Research Assistant
Work on the frother chemistry and its influence on coal flotation.
Head of Radiochemistry
We are currently searching for an experienced Radiochemist to join our team based in Brisbane, Australia. Your primary responsibility will be the research and development of new radiochemistry syntheses and novel radioligands.
Senior Research Fellow – Mine Environmental Management
Manage and support a range of research projects undertaken by the Centre for Water in the Minerals industry, as well as ensure delivery of research objectives.
Expression of Interest – Casual Professional Experience Facilitator
Seeking expressions of interest from Casual Professional Experience Facilitators to represent the School of Education and will be the first point of contact for the schools and students during professional experience placements.
Primary Care Workforce Lead
Opportunity to lead and promote rural primary care and rural generalism to increase the primary care workforce across the Regional Training Hub (RTH) Central Queensland region.
PhD scholarships: Automation of cyber software security targeting on agriculture, smart contract and blockchain, Internet-of-Things and mobile devices
The School of Information Technology and Electrical Engineering are seeking passionate PhD researchers who are interested in Cybersecurity.
PhD scholarship: Catastrophic rock and concrete brittle failures
Develop a new paradigm of monitoring, prediction and prevention of dangerous skin rock burst-type failures
PhD scholarships to support Category 1 project grants
These scholarships are funded by the Australian Government to assist PhD students with their living costs. Scholarships are offered for projects that are aligned with recently awarded Category 1 research grants. They offer students the opportunity to work with leading researchers and contribute to large projects of national significance. Available projects are organised under the following areas: Health Science, agriculture, environment and agribusiness Engineering, architecture and information technology Humanities, education, psychology, music, business, law and social sciences