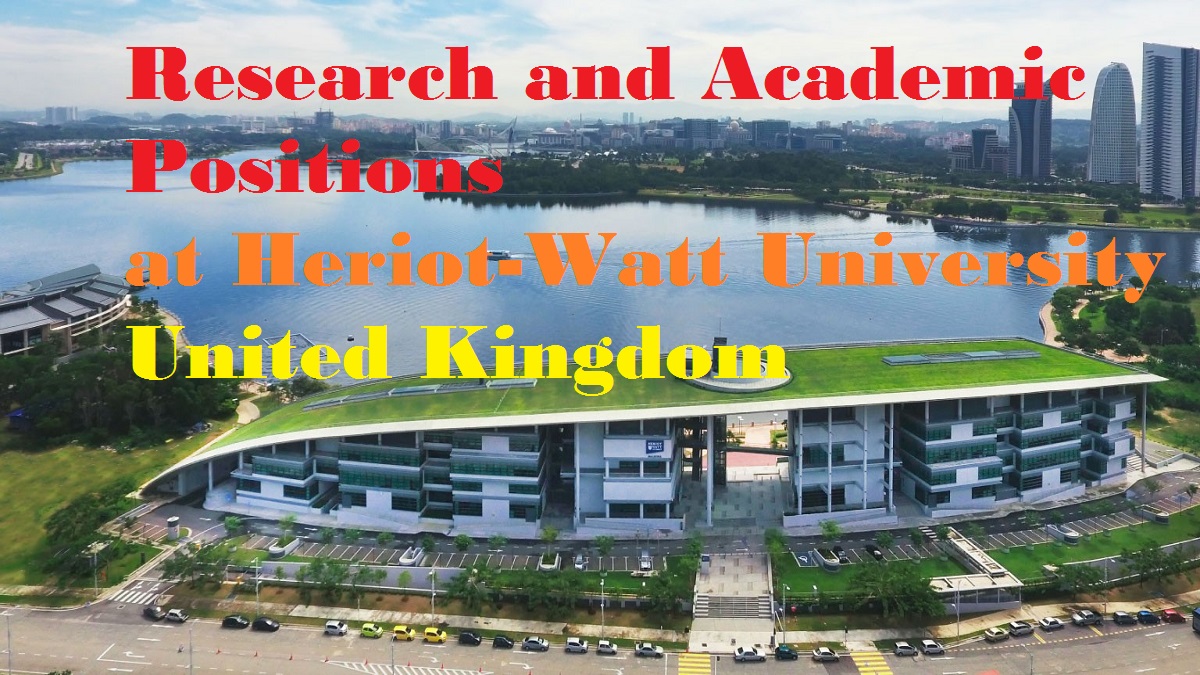 Research and Academic Positions at Heriot-Watt University, a public research university based in Edinburgh, Scotland. United Kingdom
Assistant Professor in Academic English
Our BALEAP accredited Pre-sessional courses develop students' language and study competence to enable them to perform well on their future degree programmes. The popularity of these courses means we have opportunities for additional English for Academic Purposes Assistant Professors on our 6, 10 or 14 week summer courses. We are seeking individuals who can deliver high quality teaching both on-campus and online and can facilitate an excellent student experience on the Programme. We provide expenses towards accommodation for teachers not normally resident within commuting distance of Edinburgh and opportunities for professional development through the BALEAP TEAP Portfolio scheme.
Research Associate in Many-Body Theory
We are looking for a creative and highly motivated researcher to work in close collaboration with the PI and other group members on the basic theory of novel high-temperature superconducting quasi-1D systems, such as e.g. 1D quantum wires in contact with external baths. The position requires a researcher with a strong theoretical understanding and a background in numerical many-body physics, and specifically either matrix product state-based techniques (DMRG, etc.) or auxiliary-field/determinantal quantum Monte Carlo, or both.
Associate Head, School of Social Sciences (Malaysia)
The University seeks to appoint a dynamic, enterprising and inspirational leader to lead the School of Social Sciences incorporating the Edinburgh Business School. The successful candidate will have a passion for excellence and holistic student development and will join the leadership team in Malaysia and work with colleagues across the University's global footprint. The successful candidate should be an established academic with proven track record of teaching, research and leadership in business or a business-related discipline. The successful candidate will be expected to lead both teaching and research operations in their area of specialisation and more broadly across the University. The Associate Head, School of Social Sciences (Malaysia) will also be expected to develop strong links with the industry as well as to provide strategic leadership in the area of Business and Enterprise.
Associate Head, School of Mathematical and Computer Sciences (Malaysia)
The post holder will be expected to have some experience in leading an academic organisation (College, Faculty or School), and in managing both people and finances. The role will be based at the University's campus in Putrajaya, the administrative capital of Malaysia, and as such, the successful applicant will need to have the necessary visa clearances to live and work in Malaysia. Programmes will be delivered in English and so fluency in English is essential.
Post Name Postdoctoral Research Associate in wearable sensors
We are excited to be able to recruit a postdoctoral research associate to the Soft Tissues and Biomedical Devices Lab at Heriot-Watt University in Edinburgh, Scotland. The selected candidate will join a multi-disciplinary team to work on an EPSRC funded project seeking to develop mechanical sensors to monitor the process of wound healing. Working with skin immunologists, engineers and clinicians, this post will need to work on the sensor components which will include a flexible wearable interface for the components to attach to the skin.
Assistant Professors of Accountancy
Heriot-Watt is Scotland's most international university, boasting the largest international student cohort. We are seeking to appoint two Assistant Professors to Edinburgh Business School in the School of Social Sciences to support the Accountancy subject area. The post holders will provide academic expertise in Accountancy. The posts are at Grade 7 and Grade 8, salary range £32,817 to £49,553.
Research Assistant in Petroleum/Chemical Engineering
Heriot-Watt University Malaysia is seeking to recruit an enthusiastic candidate to help deliver research in the area of phase behaviour and kinetics of gas hydrates. The successful candidate will be employed for a period of 2.5 years, and will be required to fulfil the research obligations of a project entitled Inhibition mechanisms of deep eutectic solvents (DEPs) on clathrate hydrate formation under high-pressure conditions. This research is funded by Fundamental Research Grant Scheme (FRGS) and aims to give fundamental insights on inhibition mechanisms of DEPs during gas hydrate formations.
Education Consultant Outreach (Executive/Senior Executive)
The post holder will provide counselling and information to prospective students and/or their parents on all programmes offered by the University. The post holder will participate in various marketing activities, internationally and nationally, and will work with active University's partners/agents to promote the programmes.
Research Associate in Conversational AI and NLP
The advertised position will be part of the "Socially Pertinent Robots In Gerontological healthcare (SPRING)" Horizon 2020 EU project. In SPRING, we are particularly interested in Socially Assistive Robots (SARs) for the elderly.
Researcher Development Co-ordinator
The Researcher Development Coordinator will lead on the organisation of a wide range of training and development initiatives and programmes as part of the Research Futures Academy within the Research Engagement Directorate. You will be responsible for leading the coordination and delivery of many of the Academy's training and development programmes for Postgraduate Research Students and Academic Staff, and contribute to the organisation of a wide range of the Academy's other activities aimed at fostering academic CPD and leadership in research and innovation. This is a Grade 7 maternity cover post for 12 months, salary £32,817 to £40,322.
Chair and Head of Department of Computer Science
Exciting and challenging opportunity to to build a world-class academic computer science department and and lead the department to deliver across all relevant endeavours, including in teaching, learning, re-search and innovation.
Assistant Professor-EBS Marketing
Edinburgh Business School is seeking to recruit an enthusiastic academic with experience of Marketing teaching and research. The successful candidate will be expected to build research over time and will also be expected to develop strong links to colleagues at the Dubai and Malaysia campuses to deliver high quality learning and teaching in Marketing, to contribute to the continued development of the programmes offered to students, and to develop research in association with the Academic Schools in Edinburgh, Dubai and Malaysia. This is a Grade 7 or 8 post, salary from £32,817 to £49.553 depending on experience.
Research Associate in Deep Learning and Optimisation for Extreme-Scale Computational Imaging
The BASP group is developing cutting-edge research on all aspects of computational imaging, from theory and algorithms, to applications in astronomy and medicine and are currently recruiting multiple postdoctoral research associates for research on deep learning and optimisation for extreme-scale computational imaging. Dr Wiaux is a Professor in the School of Engineering and Physical Sciences at HWU. He is also Honorary fellow at the School of Informatics of the University of Edinburgh (UoE), and Academic Guest at the Signal Processing Laboratories of the Ecole Polytechnique Fédérale de Lausanne (EPFL).
Assistant Professor- Finance
We are seeking to appoint an Assistant Professor (Teaching and Scholarship) to the School of Social Sciences to support the Finance subject area. The post holder will provide academic expertise in Finance and will be expected to be able to teach at undergraduate and postgraduate levels as well as provide executive education. The teaching and scholarship pathway has a focus on teaching and administration, but some time is allowed for scholarship, including research, in the workload allocation. Please send informal queries to Dr Edward Jones, Head of Finance, e.jones@hw.ac.uk) This is a Grade 7 position, salary £32,817 to £40,322
Student Wellbeing Counsellor – Professional Services Dubai
Heriot-Watt University, in common with all other Higher Education Institutions, has seen a significant rise in both the extent and severity of mental health difficulties in the student community. The main purpose of student wellbeing is to provide advice, information and support to undergraduate and postgraduate students throughout the student lifecycle from enrolment to graduation. As such we are seeking an exceptional Student Wellbeing Counsellor for our Dubai Campus. PLEASE NOTE: THIS IS A PART TIME ROLE CONSISITING OF WORKING TWENTY FOUR HOURS A WEEK ACROSS THREE DAYS
Research Associate in Ground Stations for Satellite Quantum Communications
We are currently recruiting a Research Associate to investigate the design, modelling, construction, and testing of the UK's main optical ground station for satellite quantum communications within the UK QuComms Hub project, a £25M collaborative project involving all the UK's major Universities, Government laboratories and companies operating in this field. The successful candidate will need a range of technical skills and the ability to work well in a major collaboration with links to other activities abroad, eg in Singapore, Canada, USA, and other countries.
Research Assistant, Data Scientist for CHASANS INSITE 2
We are seeking an experienced and enthusiastic person to join our team as Data Research Assistant working on the Connectivity of Hard Substrate Assemblages in the North Sea (CHASANS) project led by Heriot Watt University in Orkney.
Executive Assistant-International Centre for Mathematical Sciences
The International Centre for Mathematical Sciences is looking to appoint a full-time Executive Assistant based in our central Edinburgh building. The post holder is expected to provide secretarial and administrative support to the Director, the Centre Manager, and the Knowledge Exchange Officer. The work will be varied and the post holder will be expected to be able to deliver a fair, friendly and timely service to staff, partners and visitors. This is a Grade 5 role, salary £22,417 – £25,941.
Senior Governance Officer – GALS
The Senior Governance Officer will occupy a senior role within the Policy and Governance Division and will support the Governance team of the University. They will have primary responsibility for the management, coordination and servicing of one of the University's Primary Committees, and responsibility for the sub-committees that feed into that committee and those who service those committees, ensuring that they are appropriately serviced and supported in a professional and efficient manner. This is a 24 month fixed term contract at Grade 7, salary £32,817 to £40,322.
Assistant Professor-Psychology
We have seeking to appoint Assistant Professors in Psychology. Based at the Edinburgh campus, you will be a member of a strong academic teaching and research staff team. You will liaise closely with colleagues at our Dubai and Malaysia campuses, who will also be delivering programmes to our students. These are Grade 7 positions, salary £32,817 to £40,322.
Data Analyst
Based at the Edinburgh campus, the Strategy Planning, Performance & Projects (SPP&P) team has overall responsibility for facilitating development of the University's strategy and Strategic Plan; management of the University's annual planning and budgeting cycle; negotiation and production of the University's Outcome Agreement with the Scottish Funding Council (SFC); management of statutory data provision to the SFC and others; monitoring of research metrics performance; provision of both external horizon-scanning and internal performance information at all levels and across all aspects of the University's activities; management of/participation in various projects.
Contracts Advisor
The Contracts Advisor will prepare, negotiate and conclude commercial contracts, including confidentiality, research, collaboration & consultancy agreements. The role will support the University's Excelling in Research strategy with contractual advice for both research and knowledge exchange. This is a Grade 7 role, salary £32817 – £40322.
Sports Union Administrator-Oriam
The Sports Union Administrator (SUA) – Club Development will be the lead contact with all clubs on administration of their activities and services, which will be delivered through a club development framework of club development meetings, funding allocations and WattMark. The SUA will be responsible for the delivery of all aspects of WattMark, which determine the health of all SU clubs and links in with the annual club awards. This is a Grade 4 post, salary £19,612 to £21,814.
Sales & Marketing Manager-Oriam
Purpose of Role: The Sales and Marketing Manager will design and deliver a comprehensive marketing and communications plan across all areas of the business.
Assistant Professor-Business Management-9710
Edinburgh Business School is looking to appoint an Assistant Professor (Teaching & Scholarship) in the area of enterprise within the strategy & enterprise subject group. The successful candidate will be required to participate in a range of related undergraduate and postgraduate teaching, learning and assessment activities across our various delivery modes including our three campuses and online. This role is ideal for an academic who aspires to work in an environment that allows them to combine practical experience with contemporary approaches to entrepreneurial applications within organisations. The ideal candidate will have a PhD or equivalent, with an interest in delivering high-quality learning experiences to our students. Experience of working within organisations in the service sector would also be desirable. This is a grade 7 post with salary range £32,817 to £40,322.
Assistant Professor of Psychology
The Psychology Team in Dubai has built a strong reputation in the region and for our strong academic standards and links with the community. We offer two BSc (Hons) Psychology programmes and two MSc programmes in Business and Coaching Psychology with plans to develop new programmes at MSc level in the near future. As part of the dynamic growth for Psychology, we are aiming to recruit a colleague with a passion for teaching, research and outward facing professional engagement.
Casual Engagement – Student Intern for Enhancement Theme Mini Project
As part of the University's engagement in the national Enhancement Themes, funding has been received from the HWU Enhancement Theme to undertake a focused review of the PGT experience at HWU. (this will be part of a 3-year project on the learning experiences and learning communities of the following groups of students: PGT, PGR, Partnership, Online).
Research Associate in Game Design
We seek to appoint a Research Associate within the Centre for Sustainable Road Freight in Edinburgh Business School. This position will involve working closely with researchers across 3 universities on understanding the behavioural components of sustainable road freight and developing concepts of gamified interventions that would facilitate sustainable behaviour. The CfSRF comprises 3 universities (Heriot Watt, Cambridge and Westminster), and an industry consortium (of about 20 companies including Tesco, Sainsbury's, John Lewis Partnership, UPS, Scania, Goodyear and others). It is focused on developing technical, operational, social and policy interventions that will deliver the UK's net zero ambition. This is a Grade 7 position, salary £32,817.
Graduate Apprentice-Administrative Assistant (Doctoral Programmes)
Graduate Apprentice – Administrative Assistant (Doctoral Programmes) The Graduate Apprentice will assist with administrative tasks associated with running the doctoral programmes, including dealing with enquiries, taking minutes, and operating established administrative processes associated with tasks such as processing applications and monitoring student progress. Our administrative assistant needs to be flexible and versatile picking up tasks and helping with projects from across the team. How to apply: applications can be submitted up to midnight on 12th May 2021. The Graduate Apprentice starting salary is £16,420.
Client Services Manager-Oriam
The Client Services Manager in Oriam at Heriot-Watt University is responsible for leading customer excellence across the whole business and particularly at reception and for key client groups. This is a Grade 6 role, salary £26,715 – £30,942.
Technician – EPS Technical Services
We are currently recruiting a laboratory technician who is required to assist in the setting up of teaching and research laboratories, the operation and maintenance of laboratory equipment, and the training of staff and students. The post holder supports work in the area of physics and photonics in teaching and research laboratories. Although each technician in the School has a primary area for which they are responsible, they also work as part of a team to support and cover duties at busy times and during other team members' absences.
Teaching Assistant-Graduate Apprenticeships
EBS is looking to appoint a Teaching Assistant to support the delivery of EBS GA programmes and the success of EBS GA students. The successful candidate will be required to participate in a range of related activities to support EBS GA students in their four-year honours degree programmes. The successful candidate is expected to have a strong background in providing academic and pastoral care to non-