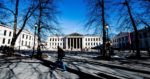 University of Oslo
Associate Professor in interaction design
Up to two full-time positions as associate professors in interaction design are available at the Department of Informatics in the research group Design of Information Systems,  Section for Digitalisation. The department is looking for researchers with clear research ambitions and solid pedagogical competence, as well as administrative skills and abilities to establish and lead research projects. For these positions we want new colleagues who can strengthen our research and teaching in the areas of participatory design and interaction design.
The Design group has a long history of research in participatory design, theoretically as well as in practice. We subscribe to the classic participatory design ambition to strengthen human autonomy by design of alternative digital technologies. Our research includes theoretical explorations and design experiments aimed at understanding and improving the design and use of IT, as well as empirical studies of users and designers / use and design.
The group publishes in PD, HCI, HRI and CSCW outlets. We are particularly interested in human interaction with "new" technologies like chatbots and robots, physical and tangible interaction, and interaction with AI/ML and imperceptible systems. These technologies challenge HCI and PD theoretically as well as practically. During the last years we have been engaged in research on "assistive technologies" and the digitalization of public services, both areas where we design technology for people at home.
Specific information about the position
The Design group is looking for new colleagues that can strengthen our research capacity in designing alternative solutions for users and exploring new ways of interacting with digital technologies. The new colleagues are expected to participate in the ongoing research in the Design group as well as to initiate and lead new research in the area. Some of our staff will retire in the next few years, and our new colleagues have the possibility to significantly contribute to the future direction of the Design group's research.
The Design group has a major responsibility in the study program "Design, Use, Interaction" (bachelor and master ). The group is recognized for good and effective teaching and we emphasize the applicants' teaching experience and competence for this position. Our teaching is research-based, and most of our teaching includes student projects. The group is looking for new colleagues who like to teach and have experience from all levels of university teaching.
Qualification requirements
Primary assessment criteria will be as follows:
1) The applicant must hold a PhD in informatics or interaction design with both practical and theoretical research contributions.
2) The applicant must have competence and experience from interaction design. This qualification is important for teaching and supervising student projects in interaction design.
3) The applicant must have experience from research on human-centered or participatory design. This includes experience from fieldwork and design experiments involving real users. Experience from all phases of a participatory design (PD) process is necessary for teaching PD.
4) The applicant should have expertise in qualitative research methods.
5) The applicant's scientific production should confirm a capacity for addressing the core research challenges in interaction design and participatory design of information systems.
6) The applicant should have experience in research-based teaching at all levels.​​​​​​
7) The applicant's research profile should comply with the research objectives in the Design of Information Systems group.
8) The applicant must have experience in cross-disciplinary research collaboration and collaboration with industrial or public organizations.
9) The applicant should have experience from project-based teaching, supervision of projects and individual students and involving students in research activities.
10) The applicant should be able to establish, lead, conduct and collaborate in research projects. A track record in academic leadership is an advantage, as well as participation in the acquisition of research grants.
11) International network, outreach activities, collegiality, and the ability to create a good working environment will be part of the evaluation.
Pedagogical qualifications and teaching and supervision experience at all levels will be an important factor in the evaluation process and should be well documented in a teaching portfolio. The applicant should describe her/his qualifications in view of the Scholarship of Teaching and Learning (SoTL) framework which includes:
Focus on student learning
A clear development over time
A researching approach
A collegial attitude and practice
The successful candidate who at the time of appointment cannot document sufficient teaching qualifications (minimum formal requirement is a 200 hrs pedagogical programme) will be required to obtain such qualifications within a two-year period.
The successful candidate must demonstrate mastery of both English and one of the Scandinavian languages as working languages. If an appointee is not fluent in a Scandinavian language, the appointee will be required to learn sufficient Norwegian within a two-year period, to be able to participate actively in all functions the position may involve.
Personal skills
Ability to create curiosity and enthusiasm in teaching students
Ability to create an attractive, inclusive and competitive research environment
Networking skills, ability to collaborate and conduct scientific leadership
Ability to cooperate and communicate well with other members of the staff
We offer
Salary from NOK 702 100 – 873 400 depending on competencies, in the position of Associate Professor (position code 1011)
A professionally stimulating working environmen
Attractive welfare benefits and a generous pension agreement, in addition to Oslo's family-friendly environment with its rich opportunities for culture and outdoor activities
The opportunity to apply for promotion to full professorship at a later stage
How to apply
The application must include:
Application letter
A research position paper (1-4 pages) describing the applicant's vision and ambitions for the nearest future
A detailed CV, including complete list of education, positions, pedagogical experience, administrative experience, project acquisition and coordination experience, funding and awards, and other qualifying activities
Copies of educational certificates, PhD diploma, transcript of records and letters of recommendation
A complete list of publications and academic merits and awards (if not included in the CV)
Full text of up to 10 selected publications the applicant wishes to include in the evaluation
A document discussing the importance, interrelation, and relevance of the selected papers for this position
Description of dissemination activities beyond scientific publications
Educational portfolio of 3–6 pages documenting educational competence and experience, including a reflection note in which your own teaching practice and view of learning is anchored in the SoTL framework. The teaching portfolio is expected to include:

Listing of teaching experience as well as work on developing/ revising/ renewing study plans and the design of courses
Documentation of teaching qualifications and supervision of Master and PhD students

List of 3 reference persons (name, relation to candidate, e-mail and phone number)
Application with attachments must be submitted via our online recruitment system. Please note that all documentation must be in English or a Scandinavian language.
The successful candidate should have an international profile with respect to the above criteria. The candidate for this position will be selected based on excellence and fit with the section's research profile.
Relevant candidates will be called for interviews and requested to hold a trial teaching session. References may be consulted.
Formal regulations
As a general rule an interview will be used in the appointment process, usually supplemented with a trial teaching session. The basis for assessment will be the scientific production of the applicant, the teaching portfolio, pedagogical and educational qualifications, the applicant's qualifications within leadership and administration, other qualifications as well as general personal suitability for the position. In ranking the competent applicants, the full range of qualifications will be considered and explicitly assessed.
Please refer to the Rules for Appointments to Professorships and Associate Professorships at the University of Oslo, the Guide for Applicants and Members of the Assessment Committee and Rules for practicing the requirement for basic pedagogical competence at the University of Oslo.
Pursuant to section 25(2) of the Freedom of Information Act, information concerning the applicant may be made public, even if the applicant has requested not to appear on the list of applicants.
The University of Oslo has a transfer agreement with all employees that is intended to secure the rights to all research results etc.
The University of Oslo has a personnel policy objective of achieving a balanced gender composition and to recruit people with an immigrant background.
In addition, the University of Oslo aims for its employees to reflect the diversity of the population to the greatest degree possible. We therefore encourage qualified applicants with disabilities or gaps in their CV to apply for the position. The University of Oslo will adapt the workplace to suit employees with disabilities. Applicants who indicate that they have disabilities or gaps in their CV are made aware that this information may be used for statistical purposes.
Contactinformation
Professor Tone Bratteteig, email: tone@ifi.uio.no, tel. +47 22 85 24 27
Associate professor Jo Herstad, email: johe@ifi.uio.no, tel. +47 22 84 00 51
For technical questions about the recruitment system, HR Adviser Torunn Standal Guttormsen, email: t.s.guttormsen@mn.uio.no, tel. +47 22 85 42 72
About the University of Oslo
The University of Oslo is Norway's oldest and highest rated institution of research and education with 28 000 students and 7000 employees. Its broad range of academic disciplines and internationally esteemed research communities make UiO an important contributor to society.
The Department of Informatics (IFI) is one of nine departments belonging to the Faculty of Mathematics and Natural Sciences. IFI is Norway's largest university department for general education and research in Computer Science and related topics.
The Department has more than 1800 students on bachelor level, 600 master students, and over 240 PhDs and postdocs. The overall staff of the Department is close to 370 employees, about 280 of these in full time positions. The full time tenured academic staff is 75, mostly Full/Associate Professors.